I'm still tryin to shake off some bronchitis. Was off school for quite a while. Started off with flu symptoms but it was more bronchitis than anythin else. The worst is when youre tryin to sleep and you spend the whole damn night just coughing.
Got time to catch up on a lotta readin tho. I read two John Grisham books, "The Brethren" and "The Testament" and also read the new Clive Cussler book, "Serpent." He's got a new hero in there, Kurt Austin - not quite as slick as Dirk Pitt but he'll do. Ifya guys don't do any reading - then do yourself a fav - you can really get lost in a lotta these stories and Grisham and Cussler are really two great writers.
So cos of the coughin and shit I haven't been surfin. Mark's been comin around after school with the work I missed so that I didn't haveta play a lotta catchup when I get back to school.
Well, Winter has definitely arrived here in Cape Town. No a lotta rain but damn the evenings are icy. Just another excuse to jack off - so I can get my circulation goin :)
THE GOOD NEWS is that the Winter swell has arrived as well and the surf has been pretty good. It'll be a while before I get back into the water but damn those waves look invitin.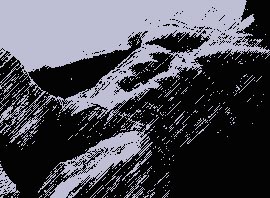 Yeah well, I guess I'm not the only one who wont kick sand in this dude's face.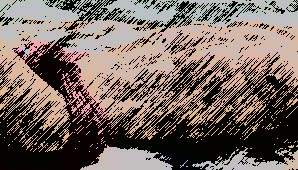 I dig this guys loincloth - well I would've dug it if he was holdin it in his hand, or somethin :)

Most of the pics on this page are thumbs, so you just needta click on them to get the larger, clearer pic.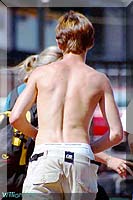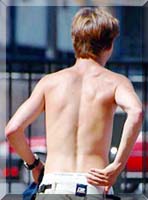 This dude has got a neat bod - I like his muscled back and I think he wants some help in pullin his cargoes down.
---
We don't hear too much about the Moffatts in South Africa but I would love to see these guys live, especially if Scott is gonna wear those open middie tops. If I'm lucky he'll let me smell his belly button. The things in these pics that turn me on totally are his open bellybutton and that bulge in his jeans - I'd loveta see what he's hiding there - but for the moment I'd settle to just let my hands cruise up from his belt buckle.
---
Goes to show you how long it takes to put these news things together. We started writing exams at school today. We wrote Geography and English 1. I'm studying pretty hard at the moment - just needta get my priorities str8. One of the reasons that the news pages take so long is the time it takes to put the thumbnails together. I enjoy the graphics and would get bored outta my tits just putting it together with a thumb package.
Right now I've just finished making toast with avo with a lotta tabasco - salt and pepper. Then Im going to my room to hit the books for a few hours and hopefully tonite I'll go to a club - maybe Corners in Cape Town with my friends and Steph.
Oh - saw Idle Hands on vid the other nite with Devon Sawa - it was a hoot - nothin to be taken seriously. Theres a scene with Devon in boxers. He's got really cool legs but there doesn't appear to be too much bouncin about in his shorts - or am I mistaken - any of you got some first hand knowledge about what's hiding there? Another cool vid was Primal Fear with Richard Gere and Edward Norton. That Edward Norton is a hottie - saw him in American History X - a totally wicked movie. I want to go and see gladiator - more for the skin than anythin else - why the hell couldn't they have put Brad Pitt ro somebody with a cool smooth bod in the leading role?
Oh - I'm stickin my neck out here but if you want me to do a graphic for you - like the ones on these pages - then send me a pic and ask. I'm not promising when it'll be ready - depends on the time it takes and how many of you ask.

NEway - I've gotta go and hit the books. Till next time.
So thereya have it.
LOVEYA!!
Cya L8er
Cody
Swap drugs for sport!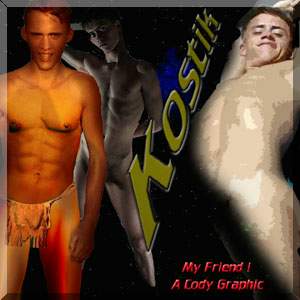 I did this graphic for my friend Kostik. Besides TJ, he was one of the first guys I met on the net and you can imagine how amped I was. This wasn't just any guy - this was Kostik. Since then - three years ago - we've been very good friends. We don't write each other very often - but the friendship is there - Loveya Kostik.
I'm hoping that one day when I get lost in the jungle, I get rescued by this dude :)