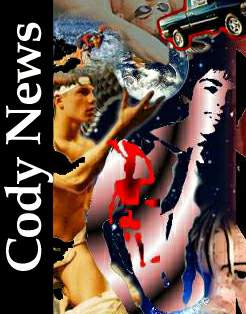 Cody News Number 15 - August 2000
---
A Cody graphic!
River Phoenix was one of the greatest teen actors ever. This is just a small tribute from me, in his memory. I would've liked to do something a lot more special for someone like River, but I'm sure that you all understand that.
A very special thing happened to me on my 18th birthday. My friend Paul, who went to England, was down to celebrate with me. He stayed with me for a week and a bit before flying back. It was a pretty special time and saying goodbye the second time was just as hard as the first, even though I know now, that I will see him again some time.
Talking about birthdays. August is certainly a great time for birthdays. My next door neighbour, Wingnut, turned 13 on 15 August and I think he enjoyed himself. Now that he's a teen he also thinks he's the greatest gift to women. What the hell am I saying - he's always thought that :) Another special birthday this month is Mr B. He turns - what the hell my calculator doesn't got that high - but it's on the 29th August and it would be really cool if you all wrote to him just to wish him an awesome day. His e-mail addy is on his website: http://www.mrbstories.com/
I got almost 200 e-mails for my 18th and it's impossible to write to all of you and say thanks - SO THANKS A STACK - you all made my day pretty special.
I've had major hassles just getting on to the net this month. It's not that I can't - it's just finding the damn time. I'm busy with matric at school and for those of you who've done it you'll know how hectic it is. There's a stack of work to do - In fact you've almost got two years worth of revision to catch up and then there's the end of year exams to look forward to and we're doing a lot of old exam papers.
So, if this news page doesn't come out on time, don't stress - it's just me trying to put my time together. Most of the pics on this page are altered but I found this dude who has got the cutest looks and well.... ENJOY!
For you guys in the States. My movie reviews will all seem like old hat to you cos by the time the movies are released here, the chances are you've got them on video already - so why don't one of you review a coupla movies for me to put in my next news page in September. It will more than likely be current for dudes outside the USA. You can do the same if you've read any awesome books or heard any great new sounds.
SOUNDS: Got the new Jon Bon Jovi "Crush" CD - It's totally awesome if you're into their sound - every track a winner.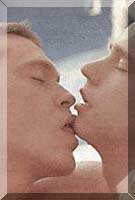 Making love to a friend is the most awesome experience you'll ever have!
I've included a whole stack of "Anti Drug" banners that I've made. It would be cool if you took one that you liked and put it on your homepage - if you have one.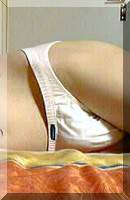 Cute little package! AND there's a little gap there for my fingers :)
BOOK REVIEW: I'm busy reading "Atlantis Found" by Clive Cussler. Dirk Pitt is back with Al Giordino and this is a really action packed thriller from the start. The book starts in the past - to give the story it's background in typical Cussler style. For those of you who are Cussler fans - this is totally awesome. For those of you who aren't - this one will convert you.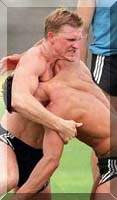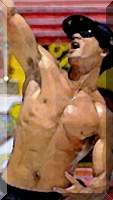 Some HOT sporting pics for you to enjoy!

Most of the pics on this page are thumbs, so you just needta click on them to get the larger, clearer pic.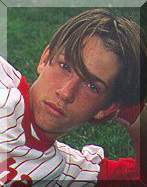 This dude proves that you need great legs to play baseball - and he looks good!
MOVIES: "Reindeer Games" - Give this one a miss. Great cast with Ben Affleck, Charlize Theron and Gary Sinise - but what a loada crap.
I think the one thing that I would like to carry on doing with this page is to have fun. And also to provide other teens with some useful info. Anyone who has anything they think would go down well - send it to me. Like I say - my time is limited but I'd appreciate some input. Links to non-porno teen pages would also be welcome - but they must be FREE! Have you got a homepage that would qualify for my HOT site of the month - send me the addy.
So thereya have it.
LOVEYA!!
Cya L8er
Cody







I know some of you have asked about some of the hot site links that aren't working, like Wildboyz. A lotta these sites get trashed cos of the porn and I don't always hear about it til you tell me. Sorry :(
HOT SITE OF THE MONTH
I've often browsed thru Lion Mane's visitor's gallery and there are some really hot pics there and they are updated regularly. No X rated in the free area, but they certainly use some hot bod models. They've got a strict copyright policy so don't take their pics for use on other sites. This link is an apology for having used some of their pics before. Hope they like the graphic :) Maybe they like it so much that they allow me to do a feature of their best .*/


Worldboys has finally launched - they've got a really neat visitor's area, so pay them a visit! Their member's area is still having hassles but the free area is definitely worth a visit. This site is now rsc.originalboys.com.
---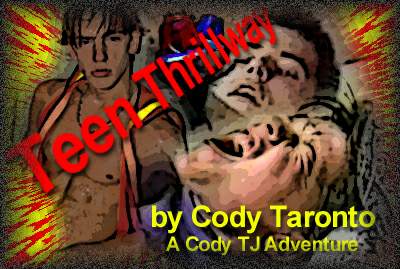 Just a reminder for those who haven't read the Cody TJ Adventures yet - this was the final episode in the series.
---

I think that this is SOOOOO cool. A Men's Health for teens.

No, I'm not advertising. I just dig the pic of the front cover of the first issue, looks a helluva lot like Mark, a friend of mine. I always read my dad's Men's Health so I think it's pretty gnarly that they're coming out with it especially for us guys. The pics link to their website.
.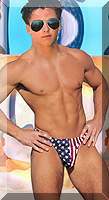 Look Code, take the damn picture. I am NOT going to put my hand down the front of my speedos.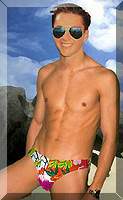 When this photo shoot is finished I'm going to annihilate you. THAT is why I'm smiling.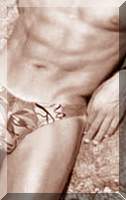 Not even one pic without the speedos Code - now bugger off.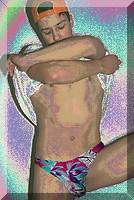 Okay Lawrence - now once the T is off, I wantya to slip those tight, uncomfortable speedos off as well.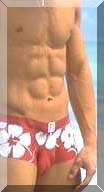 Bugger off Cody, you cannot pretend to be a bee.
FRIENDSHIP
- this was sent to me by Jace. Take some time out to read it - it's pretty awesome.

One day, when I was a freshman in high school, I saw a kid from my class was walking home from school. His name was Kyle. It looked like he was carrying all of his books. I thought to myself, "Why would anyone bring home all his books on a Friday? He must really be a nerd." I had quite a weekend planned (parties and a football game with my friends tomorrow afternoon), so I shrugged my shoulders and went on.

As I was walking, I saw a bunch of kids running toward him. They ran at him, knocking all his books out of his arms and tripping him so he landed in the dirt. His glasses went flying, and I saw them land in the grass about ten feet from him. He looked up and I saw this terrible sadness in his eyes. My heart went out to him. So, I jogged over to him and as he crawled around looking for his glasses, and I saw a tear in his eye. As I handed him his glasses, I said, "Those guys are jerks. They really should get lives." He looked at me and said, "Hey thanks!" There was a big smile on his face. It was one of those smiles that showed real gratitude.

I helped him pick up his books, and asked him where he lived. As it turned out, he lived near me, so I asked him why I had never seen him before. He said he had gone to private school before now.

I would have never hung out with a private school kid before. We talked all the way home, and I carried his books. He turned out to be a pretty cool kid. I asked him if he wanted to play football on Saturday with me and my friends. He said yes.

We hung all weekend and the more I got to know Kyle, the more I liked him. And my friends thought the same of him. Monday morning came, and there was Kyle with the huge stack of books again. I stopped him and said "Man, you are gonna really build some serious muscles with this pile of books everyday!"

He just laughed and handed me half the books. Over the next four years, Kyle and I became best friends. When we were seniors, began to think about college. Kyle decided on Georgetown, and I was going to Duke. I knew that we would always be friends, that the miles would never be a problem. He was going to be a doctor, and I was going for business on a football scholarship. Kyle was valedictorian of our class. I teased him all the time about being a nerd. He had to prepare a speech for graduation. I was so glad it wasn't me having to get up there and speak.

Graduation day, I saw Kyle. He looked great. He was one of those guys that really found himself during high school. He filled out and actually looked good in glasses. He had more dates than me and all the girls loved him! Boy, sometimes I was jealous. Today was one of those days. I could see that he was nervous about his speech. So, I smacked him on the back and said, "Hey, big guy, you'll be great!" He looked at me with one of those looks (the really grateful one) and smiled. "Thanks," he said.

As he started his speech, he cleared his throat, and began. "Graduation is a time to thank those who helped you make it through those tough years. Your parents, your teachers, your siblings, maybe a coach ... but mostly your friends. I am here to tell all of you that being a friend to someone is the best gift you can give them. I am going to tell you a story." I just looked at my friend with disbelief as he told the story of the first day we met. He had planned to kill himself over the weekend. He talked of how he had cleaned out his locker so his Mom wouldn't have to do it later and was carrying his stuff home. He looked hard at me and gave me a little smile. "Thankfully, I was saved. My friend saved me from doing the unspeakable." I heard the gasp go through the crowd as this handsome, popular boy told us all about his weakest moment. I saw his Mom and Dad looking at me and smiling that same grateful smile. Not until that moment did I realize it's depth.

Never underestimate the power of your actions. With one small gesture you can change a person's life. For better or for worse. God puts us all in each other's lives to impact one another in some way.

Ok Cody, I'll hold that thought - DAMN!!

If you keep that up Cody, I'll just keep turning my back to you (YES PLEASE!)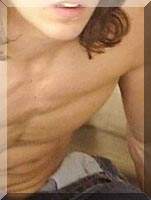 That's as far as I'm going Cody!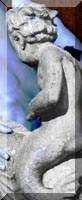 Cody is that little statue really you?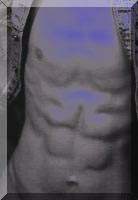 OK so I've got an outtie - what about it? And stop licking your damn lips.
Don't forget to check out the Men's Health for teens. I can't wait for it to come out here in South Africa.